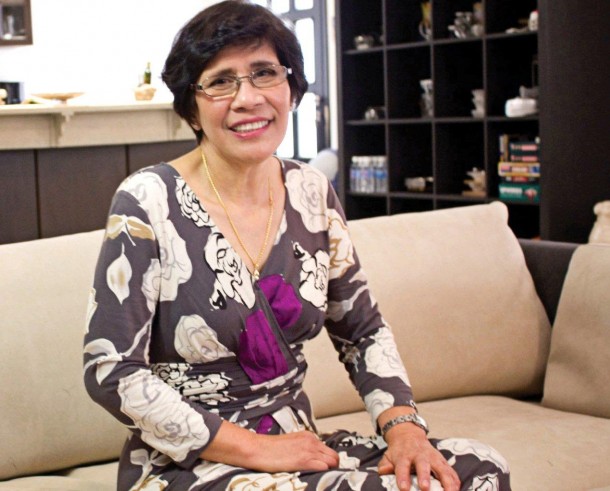 Story by: Lalaine Chu-Benitez
Photography, Hair and Make-Up by: Les Fiestan
Hilde Capanang has a couple of very simple rules she lives by: respect yourself, respect others, know your limits, and know what is right and what is wrong. As a nanny who has nurtured her ward for 27 years, from the day she was born, she has imparted values to help groom the child into the considerate, cheerful and talented young woman that she is today. Like so many of our unsung heroes, Hilde is a shining example that even in the most modest of professions, a Filipina's love and care are simply priceless.
Twenty eight years ago, Ilo-ilo native Hilde was a social worker serving at the Vietnamese Refugee Center in Palawan.  Hilde originally wanted to be a nurse but couldn't, due to her family's financial limitations.  Social work was an ideal substitute. She recounted, "Dahil mahirap kami, naiintindihan ko yung pangangailangan ng mahirap; gusto kong magserbisyo at tumulong…kung ano man ang magagawa ko." ["Because we were poor and I understand the needs of the poor, I wanted to serve and help in whatever way I could.]
Fast forward to today, Hilde has been living in Riyadh for almost three decades now, working for the Al Ammary family, taking care of their daughter Nourah.
Nourah, now all grown up, works as an Art Director, but still affectionately calls Hilde "Nannay", a symbol of the special relationship they share since the day she was born.  Nourah explained, "She is like a mother to me.  I cannot deny the bond we share. I was lucky because she didn't just take care of me. She raised me the way she would her own child and never held back emotionally. She always reminded me how loved I was."
Hilde shared the same sentiment, "Parang anak ko na rin si Nourah.  At natutuwa rin ako na ngayong malaki na siya, kahit saan siya magtrabaho, o magpunta, pinagmamalaki niya ako bilang nagpalaki sa kanya.  Mahal din niya ako at sinusuklian niya yung pagmamahal na inukol ko sa kanya."
["Nourah is like a daughter to me.  And I'm very happy that now she's all grown up, wherever she goes, she's proud to tell people that I was the one who raised her. She loves me and she returns the love that I've given her."]
Her 28 years of service just flew by, said Hilde. The Al Ammarys are kind, generous and treated her like family. Hilde also mentioned that they have given her the right to provide guidance to Nourah.  "Katulad rin ng mga tinuturo nating mga Pilipino sa mga anak natin – yung maayos na pamamaraan sa buhay; yung maging respectful kahit kanino, maging bata man o matanda, pangit o maganda, yun and tinuro ko sa kanya," Hilde recalls. ["Just like we Filipinos teach our kids – to live life properly; to have respect for anybody whether they are young or old, ugly or beautiful, that's what I taught her."]
On the other hand, Nourah said that from her "Nannay" she learned "appreciation, patience, trust, honesty, ambition and devotion, as well as keeping things tidy."   She adds, "Nannay always had the best work ethic. She worked from the heart and is very trustworthy. I learned my work ethic from her."
Serving one family for over three decades is a feat for any one, and to Hilde the secret of maintaining good ties with her employer is by returning their kindness with kindness and wholehearted commitment to her work.   "Respeto ang pinaka-importante. Respetuhin natin ang kultura nila. Hindi sa natatakot ka sa kanila, iba yung meron kang respeto. At pag maganda ang ugali na ipinakita natin sa kanila, magugustuhan at mamahalin din nila tayo." ["Respect is of utmost importance. We should respect their culture. It's not because you fear them, having respect is different.  If you show them goodness, they will also appreciate you and love you."]
Hilde, who has remained single, admitted that she also had moments when she would miss her own family in the Philippines and instances when she would be tested with men trying to pursue her. She shares, "Tao lang din ako; meron ding damdamin.  Pero importante sa akin yung respeto sa sarili ko, alam ko kung hanggang saan limitasyon ko.  At yun ang sinusunod ko." ["I am also human; with emotions. But what was important for me is my self-respect.  I know my limitationsAnd that is what I live by."]
But now, at 59, Hilde is content with her life.  Together with her sister who also worked in the same household, they've been able to provide for their family back home. She takes pride in saying that in their family now, they have a medical technician, a Computer Science graduate, and a nurse, because of their hard work.
"Para sa sarili ko, wala na akong iniisp na iba pa. Pangarap ko lang bigyan lang ako ng good health and long life at maging maayos yung pamilya ko sa Pilipinas." ["For myself, I can't ask for more.  I only wish for good health and a long life and that my family in the Philippines will do well."]
Though Hilde does have one more dream, and that is for the child who has grown up to credit her Nannay for the person that she is today.
"Pangarap ko kay Nourah, na kung ano man ang ambisyon niya, sana maabot niya yun. Gusto ko siyang maging successful. Natutuwa ako na may naibigay ako sa buhay niya." ["My dream for Nourah is to be able to achieve her ambitions. I want her to be successful. I am happy that I was able to contribute to her life."]