By Excel V. Dyquiangco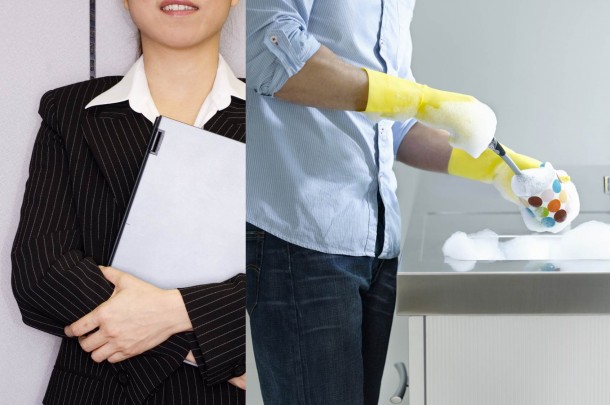 She wears the pants in the family; he stays home and takes care of the kids and occasionally folds pants. How do they make things work? Excel V. Dyquiangco introduces us to two couples who are managing the reversal of roles.
In the traditional family picture, the husband is the breadwinner of the family. He works. He toils. He labors. He brings home the bacon. The wife works, toils and labors but at home managing  a home and not an office, supervising children rather than employees.
But what if, by some twist of fate, the husband decides to stay at home, wash the dishes, do the laundry and take care of the kids? And what if it's the wife who brings home the bacon. In these reverse gender roles, how do they make their relationship work?
Here is a story of two families who tackle these role reversals on a daily basis. Thabout by circumstances – one, intentional and the other, necessary – that have made their lives meaningful and significant. Best of all, they have learned to make it work.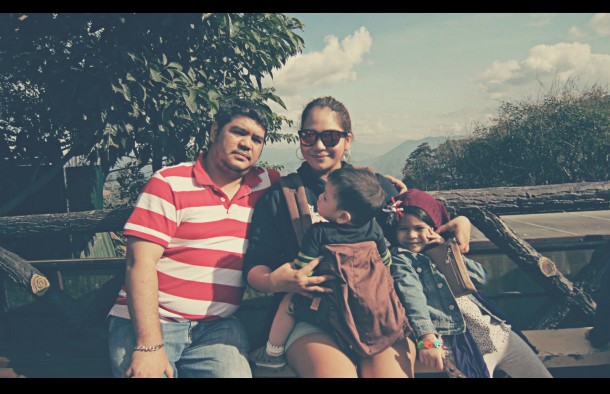 Tomas and Loraine Koetz
After more than two years working as an Incident Coordinator for a large multinational bank, Tomas felt the stress and the pressure.  Not only did his schedule constantly shift, there were times when he had to fill in for another employee – which meant more time in the office. Loraine, meanwhile, was working in the call center industry and because of their time differences, they barely saw each other at home. Their eldest daughter had even become closer to her yaya than both of them.
September of last year, Tomas and Loraine began seriously talking about what they needed to do. "It's not about the money anymore," says Tomas. "It's about the stress and the time for the family. The solution was I chose to resign and be with our two daughters while she continued to work."
"My main reason for suggesting that is because of family," says Loraine. "I grew up in an environment where our family is very close to one another. I want to have that kind of special relationship with my own family too. I don't want my own children to grow up without her parents. Plus, my husband has been working for many years already – sometimes without any promotion or incentive at all – and I wanted him to rest for some time."
Tomas admits that there were hesitations at first, especially when he wanted to buy some small stuff for himself. True, he has thought of going back to work several times but because of the encouragement given by his wife, he decided to forego that in the meantime. "First it's for practicality," he says. "And I get to spend more time with my family."
The adjustment for both of them was fairly easy since they also have a stay-out helper. Tomas oftentimes cooks baon for Loraine and each would have specific responsibilities. The husband would be in charge of the feeding bottle, for instance, and Loraine would have the responsibility of changing the diapers. Tomas admits he doesn't have much patience in dealing with the kids so Loraine is usually left with those needs.
During the weekends, the whole family goes out. They also have the time to go to church now. In fact, they even have what is called a Saturday Spaghetti Night wherein everyone of the family is involved – the parents cook spaghetti while the kids help with the household chores.
Their situation has, in fact, given them an opportunity to budget better. Interestingly, they don't argue as much anymore.
How do they make their relationship work?
"I try not to step on his ego," says Loraine. "I never say na wala siyang pakinabang–that is below the belt already. I also respect my husband even if I am the one working. Plus we give and take. Another thing, there is more patience between the two of us. We also never fight about money."
"One has to take responsibility for budgeting too," says Tomas. "But the other party should know what's going on. As proof, we have a whiteboard at home where we paste all our bills."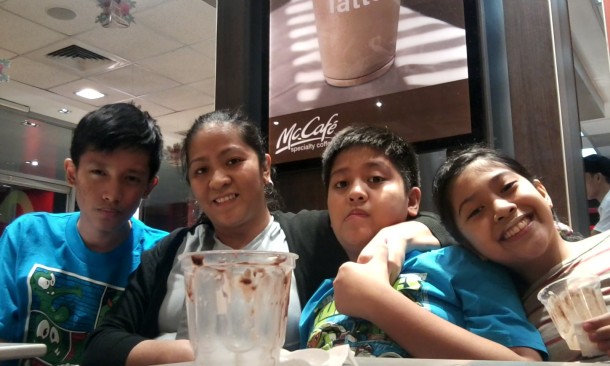 As a stepping stone to a future – and a life – in Canada, Adech allowed Fatima to work as a domestic helper in Hong Kong. During those eight years that she was living in another country, both of them had experienced difficulties and hardships in varying degrees.           
For Adech, it was about taking care of their three young children, one just more than a year old and still breastfeeding, and taking care of their household. For Fatima, it was about adjusting to a different culture and taste and adhering to a new set of rules and regulations.
"It was hard," says Adech. "This was the first time that I learned the true meaning of cleanliness and being in charge of the house. I also did some household chores such as laundry and washing the dishes. Keeping up with the kids is probably one of my main challenges. The day that my wife left for Hong Kong, at the last minute, she was still breastfeeding. I had to bottle feed our baby after that."
Fatima usually called home at least every weekend. In such funny moments, she had even instructed her husband how to fold the laundry over the phone. In Hong Kong, the responsibilities were not that difficult since she used to work as a helper in Manila. Plus her sister who also worked in the same country had already briefed her on what to expect when she was in that part of the world. "My first employer was Chinese and I just had to be in line with their tradition and culture," she says. "For instance, I had to learn something about the way I need to cook my food – the vegetables, for instance, had to look alive with really green leaves and stalks. Their one cavan of rice only had to be consumed in less than a month! That was the way they ate."
While Fatima worked out of the country, Adech was becoming closer to their children; which, in some way, was becoming a struggle to his wife. "The kids are actually more open to Adech than me," she says. "For instance, when they ask permission from me and then I say 'no', they go to Adech, hoping that he'd say 'yes' Sometimes, I could also feel that when the children hug my husband, it's different when they hug me. I just know."
"We just need to explore everything so that we'd become closer," says Adech. "It's true when they say that you never know what you've lost until it flies away."
Fatima still reaches out to her children, showing them her love and support – and making sure that she becomes their confidante as well. They go out as a family, tour the streets and have fun.
How do they make their relationship work?
"We pray," Adech says. "We make sure we maintain open communication. Sometimes we tell each other what we do – the specific details."
"Make time for your family as well, and budget for them," says Fatima. "Be more understanding and have more patience."