'Speak.Delete.Repeat.'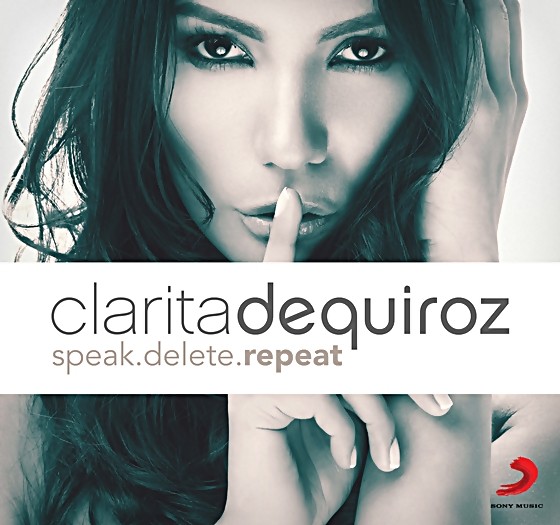 Dubai-based singer and songwriter Clarita de Quiroz has just released her first solo album, titled 'Speak.Delete.Repeat.', on the 14th April with Sony Music as her label. The hypnotic album with 12 tracks features hit singles, including 'Blanket of Secrets', 'Broken' and 'Addicted'.
De Quiroz's fascinating voice tells stories of recent events in her life, through mesmerizing vocal and piano solo tracks. The UAE-born artist has composed most of the music on the new album and co-written the songs with Dubai-based Scottish singer/songwriter, Mike Ross, with whom she will be performing as support at the up-coming Paolo Nutini concert at the Dubai Media City Amphitheatre, April 10th.
"My biggest passion in life is instrumental music. After a year of working on this album, I can say it is a true reflection of myself," said De Quiroz. "Being in Dubai, with the opportunities it offers, has helped me progress and get this far. I think Dubai brings together talented musicians, creative teams and the big music labels. That's definitely been one of its many successes."
The album will be available across music stores in the Middle East and globally on all digital service providers. De Quiroz performed a number of tracks during the album's invite-only launch event on the 12th April at Dubai's award-winning OKKU restaurant.
A former collaborator with fellow Scot and multiple award-winner, Emeli Sandé, de Quiroz has previously released an electronic dance album in collaboration with the band 'SickAsSwans' in 2012, with the album reaching No. 1 in the UAE.
ABOUT CLARITA DE QUIROZ:
Clarita de Quiroz was born in Abu Dhabi to Filipino-Spanish and Dutch-Irish parents and has spent the vast majority of her life in Scotland. She is a child of the 80s, although her music doesn't reflect that. She has been influenced by such a wide variety of artists and genres that pigeon-holing the album has been almost impossible. With influences from all over the musical diaspora, her album has smatterings of Pop, R&B and Soul all glued together with lilting instrumental pieces that echo the piano works of her favorite Classical composers.
Residing in Dubai, she has also made a successful career as an international commercial and beauty model since 2008, and appeared in the feature film, 'City of Life' and Dubai Global Tourism Commercials.
Her performances and supporting artist performances include: Sir Elton John, Roger Sanchez, Macy Gray, Kelly Roland, Gabrielle and the Sugababes to name a few.