Meeting Dance & Leisure Wear – Dubai
Please describe your business.
Meeting Dance and Leisure Wear is a specialty shop offering high quality clothes, shoes and accessories for ballet, jazz, hip-hop, modern and Latin American dance enthusiasts as well as fitness buffs.  We principally carry the Italian brand DEHA, known for sophisticated style and quality fabrics, and DANC-IN professional dancing shoes.
Why did you establish your own business?  Can you tell us when and how you started?    
I decided to offer leisure wear with a much better quality as there was a lack of it when I arrived in Dubai.  After a year of dancing and working out with clothes I brought with me from Italy, I was surprised that there were very few brands available in the market then and the style and quality was not good enough especially considering the usually hot weather we have here.  I researched the market and looked into brands and concluded that the Italian idea of "sporty chic" is what is needed in a multi-cultural society such as Dubai.
What was your start-up operations set-up? 
We wanted a commercial space in a mall in Jumeirah and got the perfect spot at The Palm Strip Mall; they liked our business concept and the idea of being the first "one-stop" dance shop in the UAE.  With two shop assistants and the season's collections to fill our newly-furnished shop, we launched in September 2005, just time for the start of the scholastic year.
What obstacles did you encounter?
The start was a bit slow as a lot of people had to get used to the idea of paying a bit more for quality material.  Reaching out to the people was the obvious market strategy but advertising rates were and continue to be so high!  We had to rely on fashion magazines to feature our clothes and accessories for their photo shoots so that meant constant liaising with them.  Being new in the city, that was not an easy task!  The skyrocketing rental rates have also been a stumbling block in the possible expansion that we always wanted.  Rates have gone down recently for office and residential spaces, but not for commercial operations.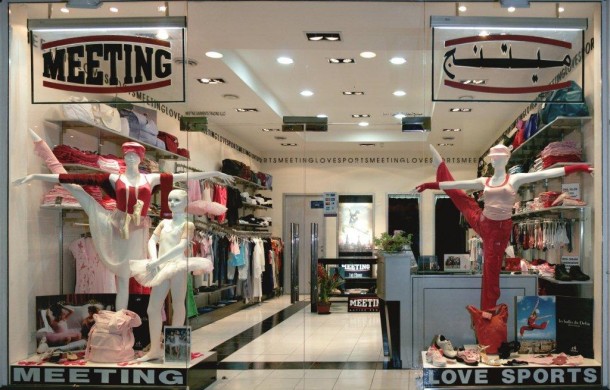 Where are you now?  How far have you gone?  What are the landmarks in your business so far? 
I can honestly say that we have become an essential part of the Performing Arts scene in the UAE, and our shop is considered as 'the' stop for comfortable but trendy leisure wear.  Aside from clients around the emirates, we have shoppers from Oman, Russia, Saudi Arabia, Qatar, and Egypt.  We work very closely with the best dance teachers and choreographers in town and are supported by some health instructors.  We also get invited to school events to showcase our products, and get featured occasionally in print and TV.
We continue to diversify as we now offer Latin American dance shoes and clothes due to the growing popularity of this form of art.  Some of our ballet items are also available at The Abu Dhabi Ladies Club as part of our aim to reach out to our increasing clientele there.
Because of the increasing demand, I now have four staff, each one specializing in an integral aspect of the business.  We are well aware that a lot of designers and brands have followed our 'sports luxe trend' that we launched in the UAE five years ago.  But we know that our staying power will be on the quality of our products and the personal service we extend to everyone, and not just because we are considered as the 'fashion of the moment.'
What are the advantages and disadvantages of being an entrepreneur?
Being my own boss is the most important aspect of being an entrepreneur.  I do not have to report to anyone and am not restricted in an office with specific hours to follow.  However, I have to take care of all the financial aspects of the business and must be constantly on the look-out for trends and demands of our target market.  The UAE being so complex and diverse, it often means having to work long hours at certain periods and being glued to my laptop most of the time.
Our line of business allows me to meet so many people of all ages which is an obvious perk.  It gives me a good feeling when they acknowledge the good service we extend to them, and the convenience they get knowing that good quality products for the world of dance is locally available.
Although I try to spend as much time with my family and friends, being an entrepreneur limits that at certain periods.  There may be deadlines to meet, preparation for shows and events, demanding clients who need my attention, and business trips that take me away for days.
Would you recommend going into business to other Pinoys?  What is your advice to budding Pinoy entrepreneurs?
We Filipinos are good at finding a niche in the market and coming up with a concept to top it.  I definitely recommend to any Filipino to do so once that unique concept comes into mind.  However, extensive research has to be considered first so that strategies can be planned and sufficient resources be put together.  Having one's own business requires truckloads of determination and patience, and heavy investments on time and money.  Add to that a touch of luck and a dose of talent, and a budding Filipino entrepreneur might just have the right recipe for success.
JES GALANG
Galang LLC – Dubai
Please describe your business.
My business is food and cigarette distribution. We are importers-exporters of dried fruits like mangoes, sweet mango balls, mango-tamarind balls, tropical fruit mix and dried banana, as well as traditional noodles like packed bihon, canton, misua, vermicelli noodles, sotanghon and pancit lug-lug.  We also supply hotel items for catering purposes like canned mangoes, Philippine brand ready-to-drink calamansi juice and dalandan drink.  But I originally started in the restaurant business, and had my fair share of challenges, hence the decision to move into distribution.
Why did you establish your own business?  Can you tell us when and how you started?
I have always wanted to be my own boss but did not have the capital like most people.  So, I started slowly in 1982 – first by investing in Tagpuan Restaurant a Filipino eatery in Karama. Then, because Tagpuan was losing at that time, I also went into food importation, with the objective of covering up the losses of Tagpuan. Supplier labor strike and the Iraqi invasion of Kuwait affected our business in the UAE and further complicated our challenges. We had a modest break even with the restaurant after two years with effort and patience. In 1985, we were able to set up a branch of Tagpuan in Sharjah.  This business went on until 1996, until I decided to completely shift into import-export of Filipino products here in the UAE.
What was your start-up capital and your basic operations set-up? 
I started Tagpuan with two other Filipinos.  We rented the restaurant premises in Karama on the 1st of July 1982 with a capital of AED10,000 each. Naturally this was not sufficient. So within a month, I had to put more money in and therefore owned fifty percent of the business. With more money required especially as the business was not making any profit at that stage, I continued to infuse capital until I had put in AED123,000 and eventually owned one hundred percent of the business. We started quite small with just a cook and a waitress. It was difficult for the first two years as additional funds were needed to operate and the population of the Filipinos in the UAE was just 30,000 during that time.
What obstacles did you encounter?
Because I had no background in the restaurant business, the learning curve was rather long.  Apart from needing additional funds to run the business, we encountered problems dealing with Arabic permits.  Also, the restaurant business is a very meticulous one with very strict hygiene standards, so even the most minute of details counted.  In terms of our offerings we tried to make the restaurant international by introducing sizzlers, and other cuisine but Pinoys at heart would still prefer their bopis and bulalo which were the best sellers during those times. Space was also limited as segregations were expected since pork was still allowed to be served during that time up until 1988.
Where are you now? 
In 1996, I have totally left the restaurant business and focused on food importation and distribution.  The brands which we distribute like Cebu, Philippines, Manila, Super Q, Porky Best, Hope and Nunies, I believe, are strong in the market.  We now operate in a warehouse and office at Al Quouz Industrial area and have recently expanded our warehouse facilities, as well as the number of our staff. We have a seven-figure revenue per annum.  I'm happy with our turnover and that business is doing well despite the global recession.
With the challenges we have faced, I realized that the restaurant business is a lot of hard work and very demanding. The time and effort needed for it to survive is 24/7. Import-export, on the other hand, is less stressful. With so many Filipinos now living in the UAE, business opportunities for food products continues to be promising.
What are the advantages and disadvantages of being an entrepreneur?
The main advantage of being an entrepreneur is that you are your own boss handling your own schedule.  The disadvantage is that you are responsible for more people – your employees, in particular.  Also, you have to pay keen attention to complying with government rules.
What is your advice to budding Pinoy entrepreneurs?
Have sufficient capital and work hard.  Do basic research on what kind of business you want to put up. Know the ins and outs – here it is not only about the capital but putting focus and dedication into the job.  After all, it is still your hard earned money that you are risking into this venture.