It's about Pinoy progress and diversity at the workfront.
Illustrado looks at the lives of Filipino professionals in the Gulf.  In this release, we take a peak at a day in the lives of a Pinoy veterinarian, a fashion website editor and a female Rock DJ.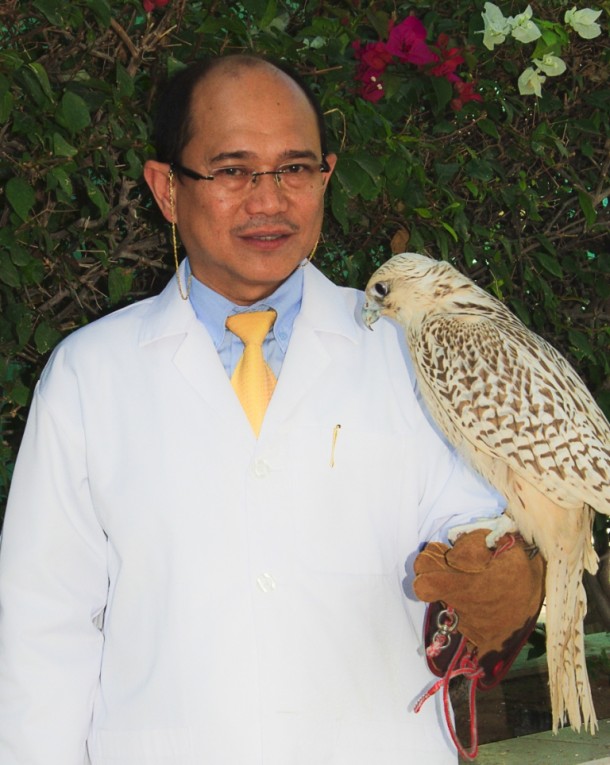 JESUS L. NALDO, DVM
Head of Veterinary Department
Wrsan Wildlife Division
Abu Dhabi
The Wrsan Wildlife Division is a privately owned wildlife reserve. Some of the animal species present in the collection include falcons, ostriches, flamingoes, pheasants, Arabian oryx and gazelles, just to name a few. As head of the veterinary department, I ensure that all clinical and medical activities, protocols and procedures are performed to the highest standards and within a professional code of practice and ethical conduct.
I also work on clinical research in collaboration with local, regional and international institutions intended to improve the knowledge and understanding of health and disease in birds particularly the falcon species, as well as supervise the health of falcons and of the different avian and mammalian species in the collection.
A typical day in the animal kingdom
I start my work at 6:30am Saturday-Thursday with a staff meeting, then I'm off to my routine tasks checking on the animals confined in the
hospital ward. I also check on the birds and the mammals in their respective quarters to ensure that their feeding, sanitation and production are according to our protocols.
It is also part of my job to make an album of all wild birds present in the different farms owned by my sponsor so my camera is always in my car ready to shoot when there is an opportunity. I find this very fulfilling because not only that I am doing my job but at the same time I can do my hobby of photography.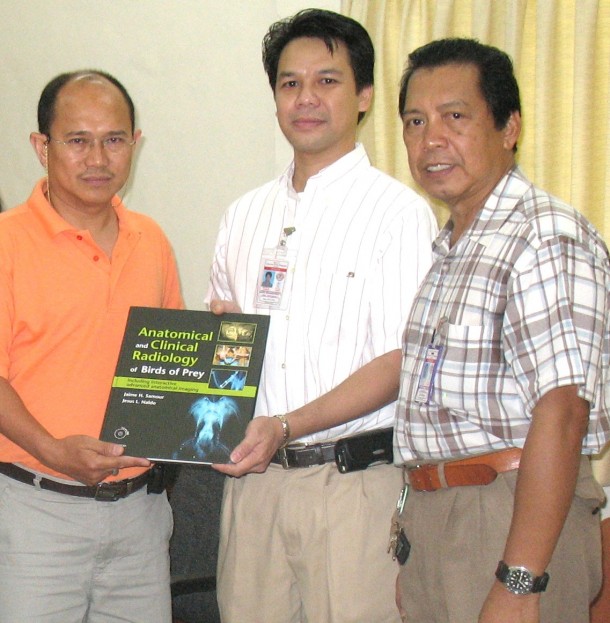 Since 1994 I have been writing research articles together with my colleagues. To date, we have published more than 80 papers in international veterinary journals and conference proceedings. But the highlight of my career is the publication of the book "Anatomical and Clinical Radiology of Birds of Prey" which I co-authored with my boss, Dr. Jaime Samour.
RX for success
I guess my rules for success and happiness are a simple combination of work ethic, practicality and faith. Love your job. If you don't like your present job, leave and look for another one. If you cannot leave, then learn to love it.
When you receive your salary, save (pay yourself first) at least 20% then spend the rest. If you want to become wealthy, attend seminars on financial literacy and saving money the right way.
Get health care protection for you and your family.
Be faithful to your God.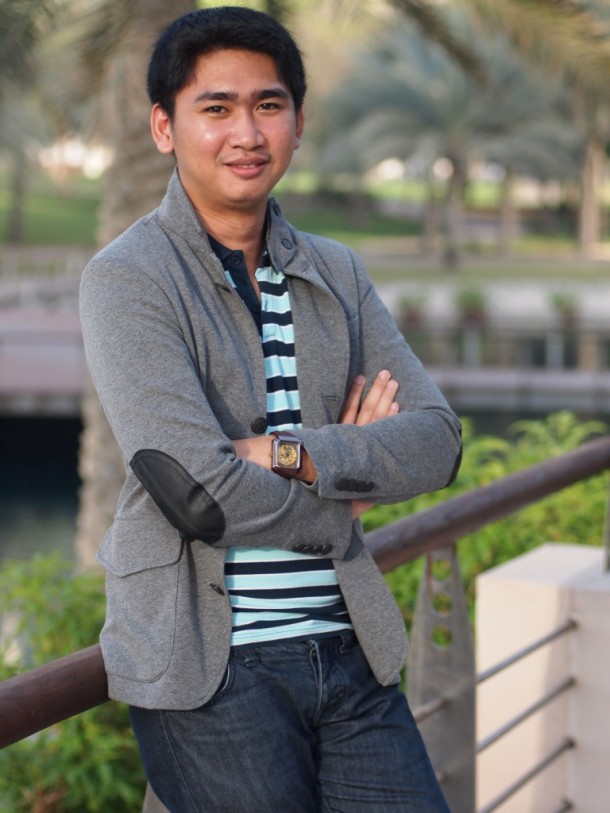 JIM PAOLO JOQUICO
Founder and Editorial Director
La Moda Dubai
I mainly look after the editorial aspect of the job which involves doing research on the latest industry news, identifying emerging trends, attending runway shows and collection presentations, developing stories of interest for our target audience.
Together with my team, we have successfully grown the brand into an authoritative source capable of informing and influencing readers, which range from the average luxury customer to key players within the regional fashion industry. Doing this job has allowed me to travel, meet people that you only read about in the magazines or whose names you only see on clothing labels, and speak to an audience as part of an expert panel.
From editor to social (media) butterfly
A typical working day for me is a constant string of research and brainstorming sessions.  I keep my eye on global industry news and trends, and identify potential features for our website. After our daily content is produced and published on the website, I switch jobs from editor to social media butterfly, because it's my job to have a dialogue with our readers, too. Some days I also help coordinate fashion shoots. On top of all that, there's the jam-packed calendar full of fashion events to get to.
Last year, I was invited to speak as a resource person at a workshop called "How to Get into Fashion and Media" together with established professionals in their respective fields including media personality Simone Heng, OK! Middle East editor Sarah Bladen, and a few designers, boutique owners and stylists. As someone who has only been doing this job for about a year, I thought it was quite an achievement for me to have been included in such a distinguished panel. It was amazing that the organizers of the event thought my experiences could be something that the attendees could take home with them and learn from.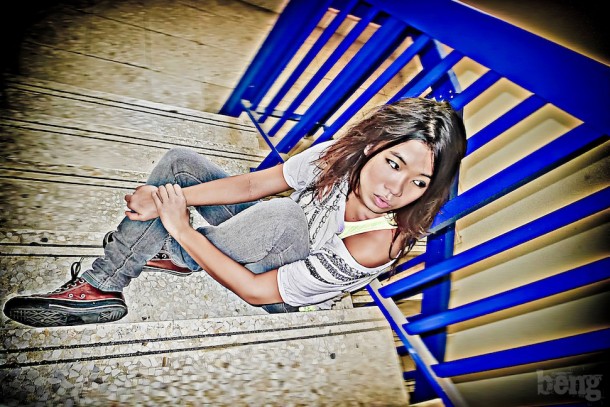 CZARINA SORIANO
Radio DJ – Rock Radio UAE 90.7FM
Fujairah Media Group
It might be a stretch but I think I may have the coolest job in the planet: playing Rock 'n' Roll four hours a day!
I'm the mid-morning presenter on the newest and only rock station in the UAE. I've been on the air from 10am to 2pm every weekday since Rock Radio UAE's was launched in November 2011. A fun, challenging workout for my brain cells is what it is. A good deal of our time is spent reading – from current events to the most random of things. Oh, we do actual work as well: running contests, scheduling music, producing interesting segments, keeping track of the music library, and managing Facebook. Seriously, a lot of our own brand of "work" happens when the on-air button is turned off.
Morning brew
My day starts with the best cup of coffee in town; which can only be found in the offices of the Fujairah Media Group. My morning wouldn't be complete without having a cup while answering and sending out e-mails, checking on current events, and polishing my prep for the day. Four hours of standing starts at 10am when I enter the studios and do the show. Yes!  We have a strict "No Chairs" rule inside the booth! We currently work with a small team and we each make sure that everything is set and ready a few days in advance. That means having a go at the music programming every day and liaising with each other to make sure that everything sounds tight and very Rock 'n Roll on the air.
Unexpected chances
I never thought I'd be a radio presenter outside of the Philippines. When my previous radio station signed off for good last year, I thought I was done with radio.  I wasn't open to working with any other format. I thought it was good fun while it lasted and was getting ready to don my nurse's uniform and finally practice that profession. A few months after and still reluctant about working in a hospital, I got a call from my previous station manager asking me to send my voice clip to some guys who were looking for a Filipino rock jock. And though the process of me getting here took an arduous amount of waiting, I am now on my 5th month in the UAE and loving it! Sometimes all it takes is a single chance and the guts to see it through.