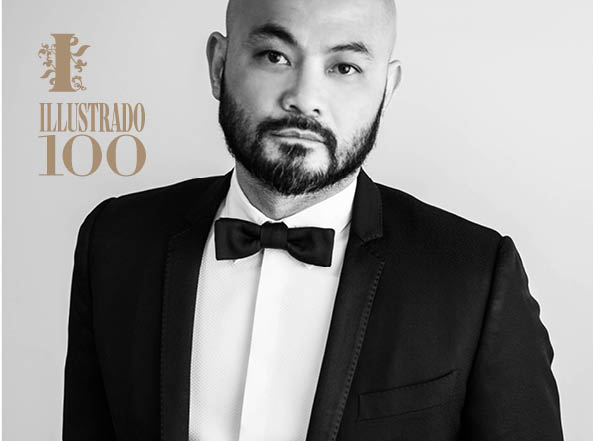 Most Influential Filipinos in the Gulf: Bong Guerrero, Trailblazer
BONG GUERRERO
Founder and CEO – Fashion Forward (FFWD); Managing Partner at Brag Events
As Founder and CEO of Fashion Forward (FFWD) – Dubai's most prestigious fashion industry event, and Managing Partner at Brag Events, the Alpha male of the Dubai style scene, Bong Guerrero has not only carved a name for himself as an entrepreneur: he has transformed himself into a true society icon. With over 25 years of experience in the Gulf, Bong's expertise in the field of events management, concert production, and fashion is difficult to match. And in 2016, he helped orchestrate a major evolution in the Fashion Forward brand – moving the venue of the shows from Madinat, Jumeirah to d3. More than just a change of space, the move signifies an enhanced focus on marrying the concept of sustainability with the fashion industry.
In an earlier interview with Illustrado, this notable Filipino sums up his simple philosophy, "I enjoy the work that I do. I truly love what I do, and I'm very passionate about what I do. I'd like to think that [passion] brings out some kind of creativity."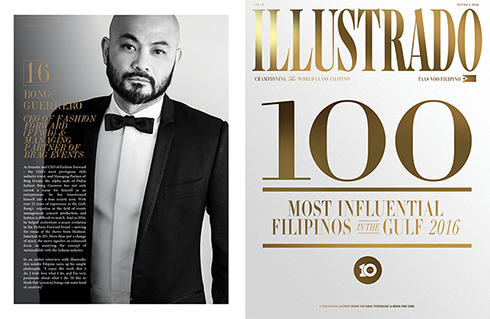 ……….
ACKNOWLEDGEMENTS:
Special thanks to Illustrado 100 Most Influential Filipinos in the Gulf 2016 sponsors – Giordano, Nikon, Liali Jewellery, Lulu, Mitsubishi and Western Union.
…………………
Related Post:
Most Influential Filipinos in the Gulf: Izhcka Zeta –Tastemaker
Most Influential Filipinos in the Gulf: Dr. Becky Desiderio – Trailblazer